Fountain, 2019
PVC pipe, electrical components, water, melatonin, botanical oils, mist, dimensions variable. Installation view Firstdraft, April 2019
Fountain, 2019
PVC pipe, electrical components, water, melatonin, botanical oils, mist, dimensions variable
Milky Way, 2018
Papaver Somniferum seeds in organza, 250 x 425cm.
Installation view in We did the soft wind, Adelaide City Library
One: all that we can see, 2017
neon light with 95% painted black, electrical components, 40 x 40cm
.
The neon light borrows its ratio from the hypothesis that dark matter and dark energy make up 95% of the universe, leaving only 5% of 'normal matter' visible.
White White (Summer and Winter Solstice), 2017
neon light, electrical components, 70 x 100cm
.
This light borrows its shape from two curved lines found on a graph in a study on circadian rhythms. The graph indicates the difference in intensity and duration of daylight on the winter and summer solstices. There are two different shades of white neon, cool and warm, to correspond to the winter and summer lines on the graph.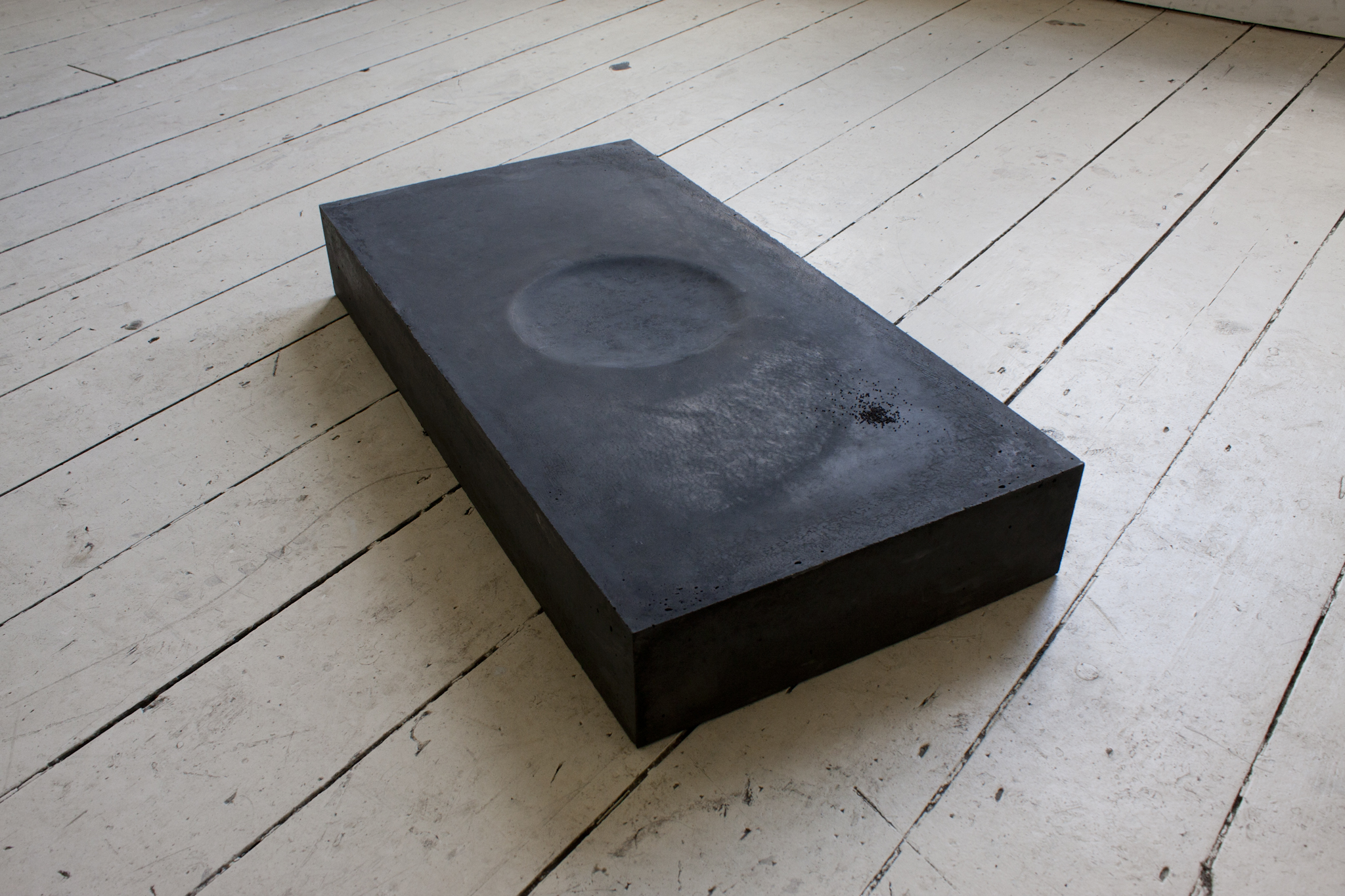 Hora Somni: for Vera Rubin, 2017
Cast black concrete with Papaver Somniferum seeds, 10 x 35 x 70cm
.
Off to one corner of the work is a small pile of sleep-bringing poppy seeds. The piece is very heavy, bound by the laws of gravity. On its surface, it bears a shallow circular crater, the imprint of a disc-shaped galaxy or a head on a pillow. While others are sleeping, astronomers override their circadian rhythms to look for points of light in a sea of blackness.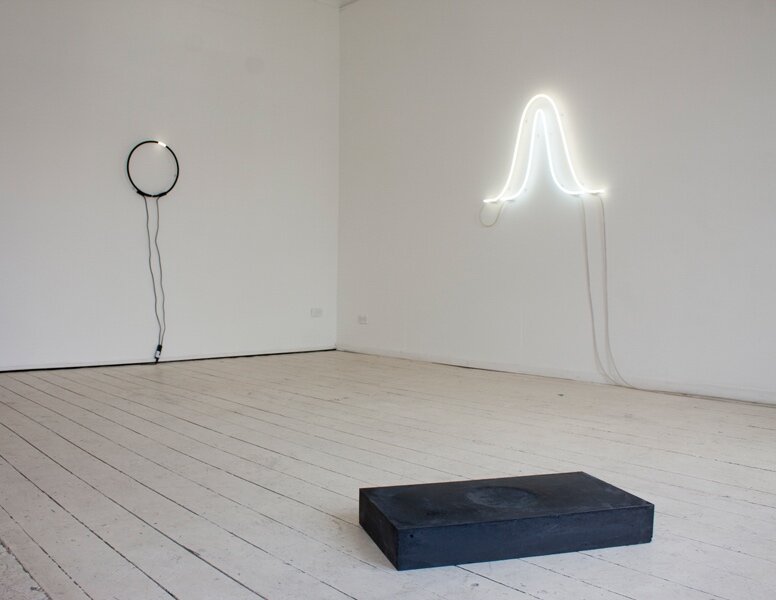 Installation View of 'Steady Illiterate Movement, Seventh Gallery, Melbourne
Longboard Sequence (video still), 2015
documentation of an action, single channel HD video, 16:9, colour, 2 minutes 3 seconds
.
In the space between wake and sleep, the figure in Longboard Sequence arrived fully formed, emerging out of the dark, clothed in silk, black like the night gliding along on an equally black longboard. There is a formal similarity between the Longboard character and the black swan.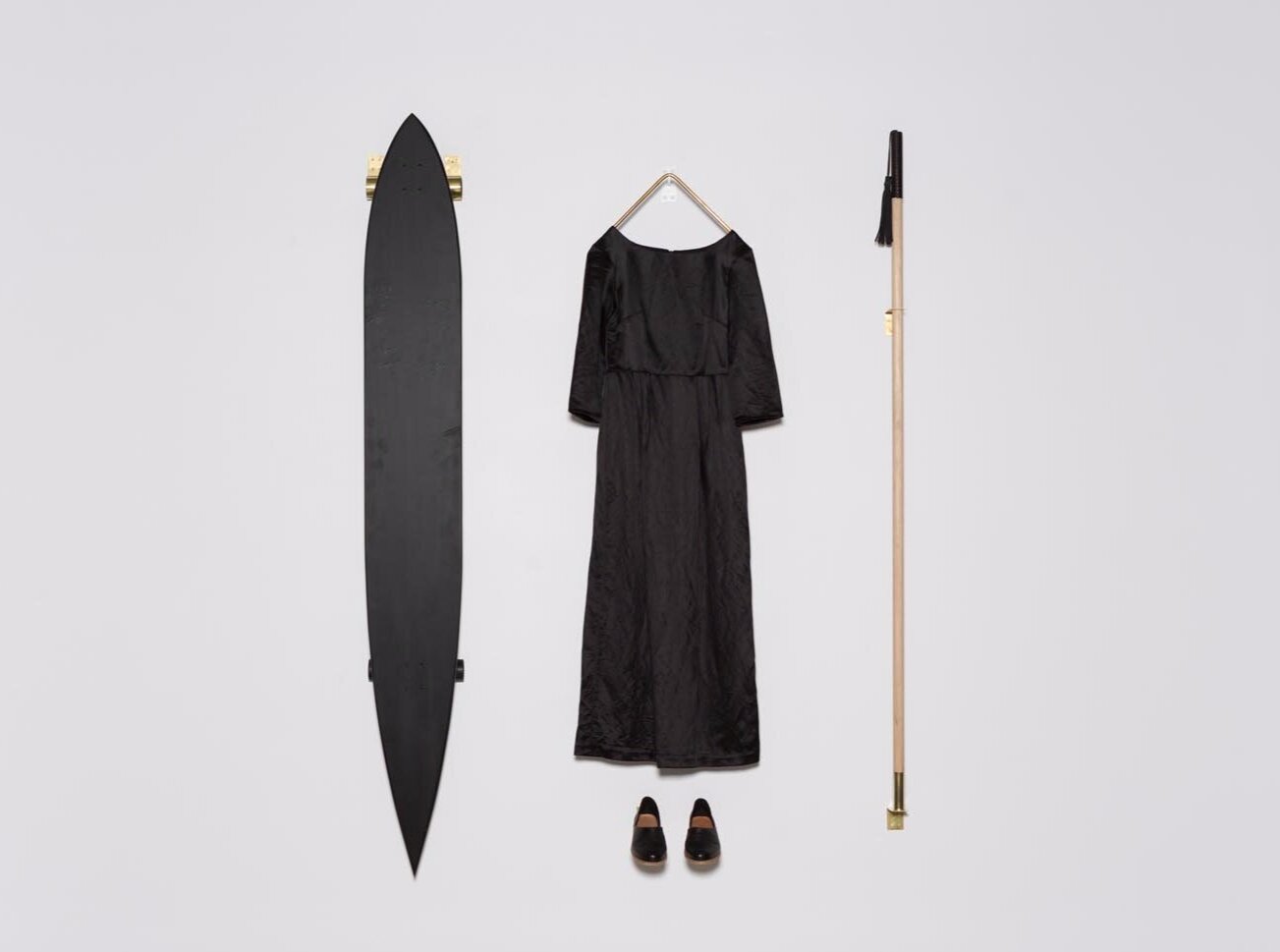 Longboard Sequence, 2015
custom built longboard, hemp-silk and cotton lawn dress, custom leather shoes by BB Shoemaker, brass tipped Tasmanian oak pole with leather grip and tassel, brass brackets and fittings. Installation dimensions 203 x 145cm. Installation view in 'CACSA Contemporary 2015' at SASA Gallery, Adelaide Photography by Sam Roberts
The Black Swan: Suite, 2014
(left to right) March of the Black swan, 2014, documentation of an action, single channel digital video, 16:9, colour, sound, 3 minutes 56 seconds; Black Swan Flag, 2014, sequinned velveteen and metallic embroidery on canvas, Tasmanian oak, jelutong, and steel, 260 x 115cm
Installation view at FELTspace, Adelaide 2014